News
Posted by Jonathan Chaffin on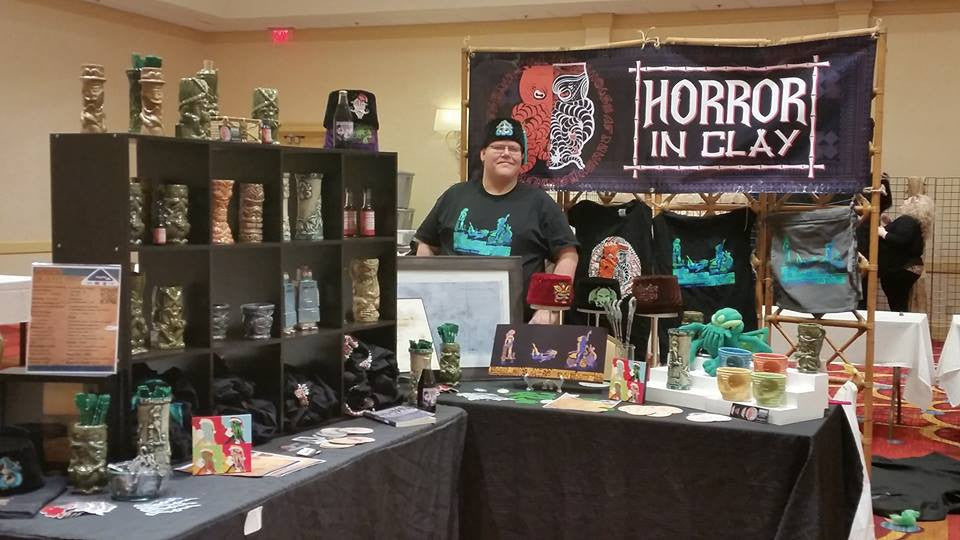 Posted by Jonathan Chaffin on
Right off the bat, let me say I didn't expect to find any tiki hiding out in the
Outer Banks of North Carolina
(OBX for short). Pirate themes, nautical and shipwreck dive bars, maybe, but not what I would call tiki in the Donn Beach poly-pop sense. Surprise! I found some! I also found some other neat things.
Posted by Jonathan Chaffin on
Jody is a craft bartender and gin brand ambassador in Edinburgh, Scotland. He's a collector of Horror In Clay, and a few years back was deemed the Ultimate Kraken Hunter and has won other international accolades. He send us some recipes to try and settled down for a chat. The Demon in the Dark (winning cocktail of the Ultimate Kraken Hunter bartending competition) Grated cinnamon Grated nutmeg sugar cubes peppermint bitters 3oz Kraken Dark spiced rum At its heart, the drink is a Bumbo, which is then set ablaze: Firstly heat up two tankards boiled water, set those aside to warm. Grate...
Posted by Jonathan Chaffin on
I'd like to state for the record that I had to recreate this article twice from my notes since the beginning of February. Sheesh. - JMC      As a father, I'm proud to help support Women In Horror Recognition Month. #WIH666 Let's show all the kids of all ages and all genders they can do whatever the hell they want, and let's double emphasize for our girls they can do, like, and say whatever they challenge themselves with. Anyone saying "Girls shouldn't like gross things, horror things, ghastly things" (or anything really) should shut up and get out of...
Posted by Jonathan Chaffin on
It's holiday time, and that means everyone is trying to make sweet, sweet cocktails to dull the pain of old family wounds.  Or to enjoy friends and the gatherings with which the season is rife.  Or, of course, to celebrate the solstice and the return of the Old Ones. Regardless, red is a color of the seasons, and the quickest way to sweeten up and make festive a plain old cocktail is Grenadine.  Sweet, syrupy, and red. This is where people start to go horribly, HORRIBLY wrong.   That half full, stuck shut bottle of Rose's Grenadine you've had sitting...
---