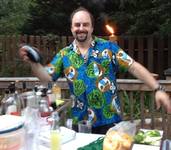 Inuhele2024 - Charity Rum Symposium with Paul Senft
Inuhele; Atlanta's Tiki Weekend, Charity event available for attendees of Inuhele; you must have a ticket to Inuhele to participate. 

Details on the convention here.
Tickets can be purchased directly here.


Pre-registration: Required
Price: $45
Class size: 25
When: Friday: 5 - 6:30 pm AND
           Saturday 12:00pm - 1:30 pm
Description: 

Every rum has a story so good you can taste it.  Join spirit writer and host Paul Senft Saturday at 12:00pm for a special charity experience supporting

The Giving Kitchen, a

 regional charity that supports the food service industry with emergency financial support and community resources. In 2015 the Chaffins' lost their dear friend Les Goodwin after almost a year long struggle with his heart; the Giving Kitchen helped support Les and Kathryn Chaffin during that year, and have helped many other service industry workers. Donations are 45 dollars per person for this once in a lifetime rum symposium.
 Paul Senft is one of the most passionate people you will meet in the spirits industry.  His exploration of history, rum, and all things Tiki led him to eventually founding RumJourney.com.  This exploration led him and his wife to travel the Caribbean, Central America, and across the United States visiting distilleries and studying firsthand how each one created their products- Beers, Whiskies, Bourbons,Vodka, Gin and Rum.  During these travels he has met and exchanged knowledge with like-minded explorers and innovators in the industry.  He took this knowledge to hone his craft as a writer and immersed himself even deeper into the studies of rum, earning multiple certifications.  Never satisfied, he is always looking for the next experience that will help him learn more about this noble spirit.