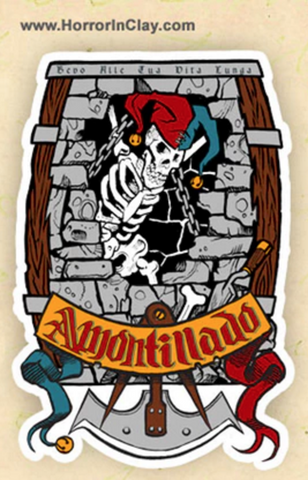 Cask of Amontillado sticker
The thousand injuries of Fortunato can be safely shrugged off if you're sporting this full color wine label/victory sticker.  Let it be a warning to any who would cut you off or steal your vino; you'll wall 'em right up alongside.
Use this 3in x 5in sticker to identify other Poe fanatics, or to protect your stuff (or simply make it look awesome). Great for skateboards, longboards, hotrods and art cars.
Printed on the highest quality vinyl stock (3.2 mil) with a free UV Gloss (3 mil) laminate finish. Lamination helps the longevity of the sticker and adds a shine to the sticker. When coated, the stickers are outdoor-strength and will remain fade-free for up to 5 years.
---
We Also Recommend